Michael Wilson is a Senior Tissue Recovery Coordinator for LifeLink of Georgia. He is responsible for performing physical assessments of donors, drawing blood, determining donor eligibility and on rare occasions, comforting family members who would like to spend time with their loved ones prior to a tissue recovery.
He has worked in the field of tissue banking for the last 15 years and finds his work to be extremely rewarding. "I began working as a surgical technician in a hospital before becoming a first assistant at a private orthopedic practice," says Wilson. "A friend informed me about an open position within LifeLink's tissue bank and the rest is history."
Michael has been blessed to see both sides of the donation process throughout his career. "I can recall receiving tissue grafts from LifeLink when I worked for orthopedic surgeons and now I understand firsthand where those grafts came from."
The job of a tissue recovery coordinator is not glamorous. Countless hours are spent recovering life-enhancing grafts and their work is done in the shadows. It is not unheard of for Michael and his colleagues to work for 12 to 24 hours on any given night to recover tissue grafts from donors. "This work can be strenuous and tiring. It takes a lot of time to understand the recovery process in the beginning but in the end the job is very rewarding."
As a Senior Tissue Recovery Coordinator it is Michael's job to train and mentor new hires. "Training should be quick. If a new hire continues to struggle after six weeks I will bring them in my office to review paperwork, discuss the reasons they are struggling and provide encouragement."
Michael is one of many unsung heroes throughout the country who work in the shadows to ensure others have a chance to live a better life through tissue transplantation. We honor Michael and his colleagues for their tireless efforts to honor the wishes of tissue donors by helping to enhance lives.
The Transplant Games of America is a multi-sport competition held annually to promote the message of organ, eye and tissue donation. This year, throngs of organ, eye and tissue recipients, living donors, donor family members, and concerned citizens will flock to Cleveland, Ohio to compete for medals and bragging rights and cheer on their loved ones and friends as they compete. There are competitions for every age group and physical fitness level including tennis, swimming, foot races, darts, and cornhole (just to name a few!) While the majority of the competitions at the Transplant Games are athletic events, the committee has steadily been including events that appeal to participants interested in competitions that don't require an extensive amount of physical exertion but do require a tremendous amount of skill.
One such event is Lyrics for Life, a musical competition that will premiere this year. The event is the brainchild of Dan Palmer, an entertainer since age 16 and a recent liver recipient. Dan was inspired to pitch the idea to the committee after speaking with friends at Sierra Donor Services, based in northern California. 
"At the beginning of my liver disease journey, I volunteered with them by performing at their volunteer appreciation events and producing videos for public awareness efforts," said Palmer.
Lyrics for Life will have two rounds. The first round will allow all competitors to sing their individual songs. Judges will then choose six finalists from the first round to compete in the second and final round, where competitors will sing two songs. The winners will be selected based on their performances in the second round.
"I see this event as a natural way for transplant recipients and living donors to touch and inspire others even as their own hearts are being touched," said Palmer. "Music, and really all of the arts, speaks to people's hearts."
The general public is welcome to view and cast their votes for the talented singers competing via this link.
Palmer hopes the new artistic competition will move people to action: registering as organ, eye and tissue donors. He feels it's a tremendous opportunity.
"There is nothing greater we can do than to save someone else's life … leaving a legacy that will carry on well beyond our years."
This will be Palmer's first time attending the Games. He is excited to travel to Cleveland and be surrounded by people who understand and can relate to what he's been through.
"I want to see everything!" said Palmer. "I received my liver transplant on June 2, 2015 so I'll be celebrating the fact that I'm still alive at the Games!"
For more information about Lyrics for Life and the Transplant Games of America, visit the official website.
Marco Canton's daily routine includes getting up early to hit the gym­ five to six times a week and pursuing an associate degree as a registered dietetic technician. He's very involved with his church and volunteers as an on-air radio personality for the church's radio station. He's close to his family and friends, and he loves spending time with them. In short: Marco leads a healthy, fulfilling life, but that wasn't always the case.
As a teenager growing up in Costa Rica, Marco learned that he had diabetes. By the time his family moved to the U.S. in 1994, the disease had progressed so significantly that, in fact, Marco was left blind in his left eye.
"I remember going to sleep one night and when I woke up I was in the hospital. I had slipped into a diabetic coma," says Marco.
As Marco's health continued to decline, his kidneys shut down. In addition to taking insulin shots, his life depended on dialysis machines removing toxins a healthy kidney would normally clear from the body. Marco was on dialysis three times a week, for three hours each sitting.
In turn, the dialysis wasn't enough and Marco became gravely ill; he was in desperate need of a kidney and pancreas transplant.
In October of 2008, through the generosity of a deceased donor, a complete stranger, Marco received his lifesaving transplants. His health improved almost immediately, and his life began to move forward again at full speed. For him, there was no going back.
Marco shares his story with the Latin American community in northern Nevada in the hopes individuals will register as donors. He is active with Ministerio Palabra de Vida (Word of Life Ministry) in Reno and has been interviewed about his experience during various radio segments.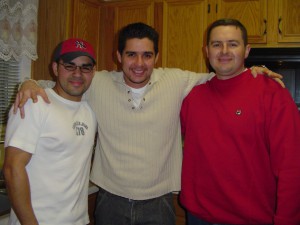 "I have a strong faith, which has allowed me to be here to talk with others about organ and tissue donation. Anyone who registers as a donor needs to know that their decision can possibly change someone's life. I am a living example of that."
There are many myths pertaining to the subject of organ and tissue donation. Some are so deeply ingrained in a person's psyche, he or she dismisses fact and logic and holds fast to unsupported claims; however, there is one fact that cannot be dismissed: if organ donation did not exist, thousands of people would die.
As it stands, 22 Americans die daily because of the lack of available organs  for transplant. According to the United Network for Organ Sharing, more than 25% of those who died awaiting a transplant in 2015 were African American. Currently, 30% of patients waiting for a lifesaving transplant are African American, and unfortunately, the wait time for many of these individuals is greater than their white counterparts.
Debra Cason is one of the thousands of individuals listed for an organ transplant. Cason led an active life prior to her kidney failure diagnosis. She traveled, worked full time, and helped her youngest son transition from high school to college. However, after almost eight years of waiting for the right match, she is no longer able to live the life she once enjoyed.
"As a kidney patient, I suffer with bouts of anemia and low energy levels," said Cason. "I have been unable to secure full time employment and travel at will.
Thousands of other African Americans throughout the country are waiting for the chance to reclaim the lives they once had. If more people made the decision to become an organ donor, the wait times would be reduced. "
"We look for genes that are a match in the same race," said Dr. Mayra Lopez-Cepero, Senior Vice President and Director of the LifeLink® Transplantation Immunology Laboratory.
Lopez-Cepero and her staff work to make sure the best matches are made between an organ donor and recipient.
"The majority of African Americans are in blood group B. This is also the least common of the blood in the population. This is one of the reasons African Americans may wait longer for a transplant."
As the nation celebrates Black History Month and the amazing contributions African Americans have made for this country, please consider another remarkable act: Register to be an organ donor.
"For those who have not decided to become an organ donor, I would encourage them to get all the knowledge they can about organ donation and realize how many people would benefit with such a selfless gift of life," said Cason. "I have always been a person who believed that all things are possible no matter how bad it seems," she continued. "I have faith in God who makes things possible, and I believe that some good will come to my situation."
Signing up to be an organ donor is simple. One can declare their wishes when renewing or receiving a driver's license/identification card at the DMV or online at www.registerme.org. Organ donation occurs after death and one donor could save up to eight lives. One "yes" can make a difference.
FACTS ABOUT ORGAN DONATION:
Virtually everyone is a candidate for organ donation. Potential donors are evaluated at the time of death.
There is no age limit for organ donation.
All major religions support organ donation as a personal decision and generous act of kindness.
Organ donation places no financial burden on the donor's family.
Emergency response and hospital staff work hard to save the life of every patient. Organ donation is an option ONLY after every lifesaving measure has been exhausted, and the potential donor has passed away. Emergency response and hospital staff do not have access to state donor registries to confirm donation registration.
Minorities are in great need of more organ and tissue donors as more than 71,000 minorities in the U.S. are on the transplant waiting list
Non-whites are disproportionately affected by illnesses, such as hypertension and diabetes, which can lead to end-stage renal disease and the need for dialysis or a kidney transplant.
Non-whites comprise 32 percent of living and deceased organ donors, while making up 36 percent of the U.S. population.
58 percent of individuals on the national organ transplant waiting list are minorities.
According to the United Network for Organ Sharing, "successful transplantation often is enhanced by the matching of organs between members of the same ethnic and racial background."
The Rose Parade is America's New Year celebration that showcases the very best of community spirit and love. This year marked the 13th appearance of the Donate Life float in the parade and several AMAT organizational members were present to honor donor families and recipients. Here's a recap!
Sierra Donor Services was honored to send the Perez Family to honor their family member, Marina Perez, who became a donor in 2012.  It was a bittersweet week spent remembering the good times and focusing on the good that can come from donation. The family attended the Floragraph Breakfast; they helped decorate the float (including mom, Nicole, lovingly placing Marina's floragraph on the float), and they participated in the float judging.  One of the most touching moments was when Marina's baby sisters, Natalie and Madalina, were able to be close to her floragraph and were chatting with Marina about what they remember, "Hi Sissy, I remember when you used to put make up on me."  It was a wonderful way to honor a beautiful, generous young lady who was wise beyond her thirteen years.
Donor Network West joined the 2016 Donate Life Float in celebration of Sisto Fuentes and the lives he saved, including that of his family friend, George Grimm. Sisto, a selfless giver, was honored with a floragraph proudly displayed next to George, a float rider and one of four lives saved by Sisto's generous act of donation. The Rose Parade festivities also served as the perfect backdrop for three of Sisto's brothers to finally meet George, the man in whom Sisto's heart lives on.
LifeLink Foundation highlighted and shared a courageous story of donors and families following a 2014 Venice plane crash. Ommy  Irizarry, and his daughter, Oceana, were memorialized for both the lives they led and the gifts they gave.  Oceana saved the lives of three people, and Ommy's gift of tissue donation changed the lives of dozens of others. LifeLink Foundation shared a special press release and supported the Rose Parade celebration through all of their social media networks.
NJ Sharing Network was proud to officially send New Jersey representatives to Pasadena for the 2016 Parade of Roses. It was an amazing opportunity to remember those who gave, honor those who received, and give hope to those who continue to wait. It was also a time to remember those who have passed waiting for life-saving transplant.
Bridge to Life, Ltd. was the proud sponsor of the Betsy Niles' floragraph for the 2016 Parade of Roses. With the help of Sigma Pi International Fraternity – Montclair State University Chapter, Betsy's family was sent off in style. NJ Sharing Network was proud to honor our heroes and collaborate with Bridge to Life, Ltd. for the third year in a row.